How to Turn off Web Push Notifications for All Websites?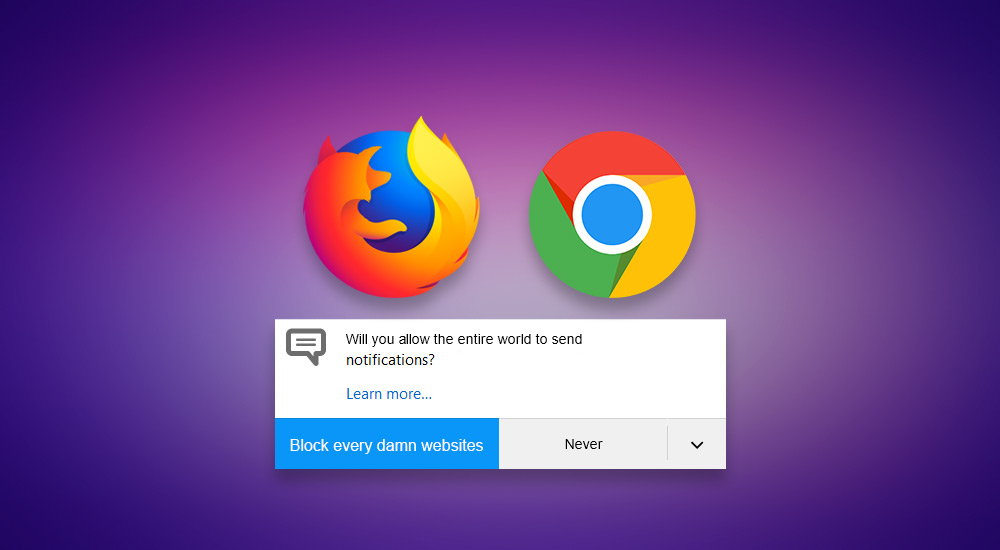 The latest nuisance on the web is the web notification feature that allows websites and apps to send you notifications straight to your desktop. While the concept of desktop push notification sounds useful and productive at the surface, it's not really an essential feature for desktops and laptops, as it has now grown into a pandemonium over time.
Who in the world would want both their laptop and mobile phone beeping at the same time? Of course, one can choose not to receive any notifications when a site prompts the 'allow notifications' popup. But with every site on the internet trying to push notifications to you at the same time, it's better to disable web notifications for all the sites — if you want peace.
Disable web push notifications on Firefox
Step 1: Type about:config in the address bar and hit enter.
Step 2: Click on I accept the risk and proceed to the config page.
Step 3: Type webnotifications in the search bar.
Step 4: Double-click on the dom.webnotifications.enabled name to change its value to false.
This disables the web notifications for all the sites. But if you still need to retain the notifications when any sites are opened in the tab, you can set dom.webnotifications.serviceworker.enabled to false instead of Step 4. Note that sites will still bug you with the notification prompt.
Disable web push notifications on Chrome
Step 1: In the address bar, type chrome://settings/content/notifications and hit enter.
Step 2: Toggle the Ask before sending option to Blocked.
However, it is still quite useful to leave the notifications turned on for email services. If that's the case, perhaps Firefox will come in handy as it allows you to disable the notification service workers for the sites — which allows websites to send push notifications only when they are opened or pinned in a tab.
May peace be with you! Happy browsing!
This post was first published on March 28, 2017.