Best Free Alternatives to Commonly Used Windows Tools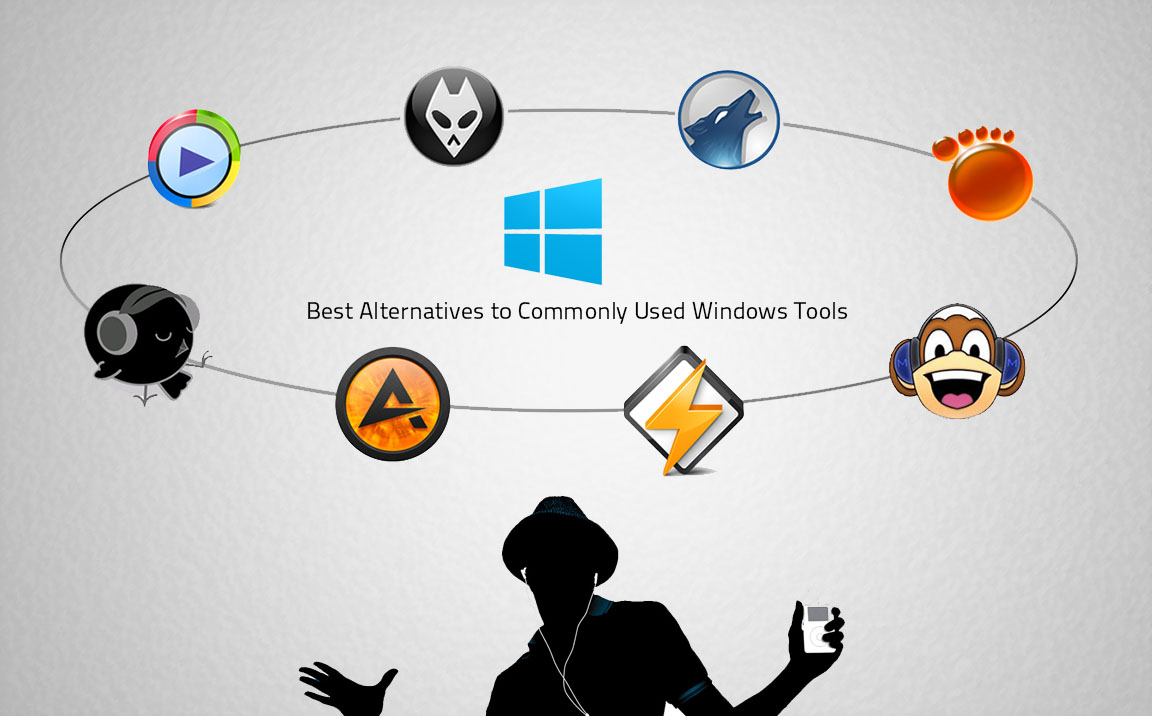 Microsoft's in-house tools are widely used by most of the people on the planet. But, due to the lack of custom options and the freedom to play around their default world, there is a certain need to switch to better alternative tools to make the experience better. Though most of the listed tools are widely known, there are other tools that share the same world as of the breed.
1. Operating Systems
Tons of everyday problems and the lack of development support sometimes, push us to the limit to ditch the entire OS. But still, we look for some windows nativity for a few apps that couldn't be missed from the action.
Linux: It is the best free, popular and most secure alternative operating system. For the beginners I recommend to check out Ubuntu and Mint Linux besides an installation of wine which allows windows app to run on Linux OS. I hope if you are powerful enough to look for some powerful Distros you would've figured out the best alternatives even before you've read it.
Chrome OS: The best choice for the people who have their life online than any offline crawlers. This OS from Google is best choice for those people and for the antique owners who wish to revive their old PCs.
2. Browsers
Despite Microsoft's effort and campaigns along with its every windows and IE upgrades, most of the people get the least satisfaction with performance and speed of the internet Explorer. I'm pretty sure you would've known about the two big browsers and it's almost silly to mention it. But still, for the people who live inside the windows:
Google Chrome and Mozilla Firefox : These are the leading browsers that still top the benchmarks and all the other statistical reports all over the planet based on performance, speed and security. Besides, they are developer friendly and have a lot of potentially useful apps and productivity extensions to fulfill various needs of the user.
Maxthon, Opera, Safari browsers are also the best alternatives and you can give it a try.
If you want to stay anonymous, Tor browser is the only choice you can make for a complete security over privacy.
Related Swipe: 10 Apps to Supercharge Chrome
3. Microsoft Office
Microsoft office is one of the huge success recipes for the company and the recent product, Microsoft Office 2013, houses more cool features and there is no doubt that any product could match it. The only problem is that it is tagged with huge price that most of the people cannot afford. And due to the license restriction when used in a networked space, there is a need for alternative suite for the MS Office.
4. Media Player
Windows media player is one of the best players which render your movies at its best quality and sound, only if it is bound by all the in-house wmv settings and a few other normal formats. When it comes to new formats and tweaks, it fails miserably. If you are a fan of Windows Media Player and need all the support for all the formats, you would have to install separate codec packs. There are other famous best alternatives to Windows Media Player, which comes stuffed with all the necessary codecs:
VLC media Player (The best)
Winamp (Best for music)
5. Outlook (Email Client)
Security is the primary concern when we hop around these Email clients. Microsoft's Outlook is one such example which had its history of concerns, but still it is the most trusted and best one in the market that comes along with the Microsoft Office Suite. When you need an alternative for this one, the best one to look for is Mozilla Thunderbird which is far better than Outlook in many features especially when it is about security.
6. Task Manager
The god of all situations! When all else fails, the task manager is the only last resort for exploring and isolating the problems or to end the non-responsive processes. Surprisingly, there are more programs available online to replace the default Task Manager. I tested a few of the programs and concluded that Process Explorer from Microsoft is the best available.
7. Copying
The last tool that I would recommend you to add to the list is the Teracopy. While windows explorer does a good job since windows 7 when it comes to copying large files, Teracopy as a sidewinder will help you to breakdown and speed up small junks of files. Few benchmarks did prove that Teracopy fastens the copy process for small and multiple files that are in chunks.
While there are countless features and tools that you can replace with an alternative tool for windows, these things would cover up the major areas, where one would desperately look for an alternative. If you have your own list, do let us know about it in the comments or shoot us a mail to [email protected] and we will publish it for you.
Related Swipe:
16 Useful Windows and Web Tips to Save Time
This post was first published on January 20, 2014.