What Data Can You Download to Survive Offline during a Global Pandemic without Internet?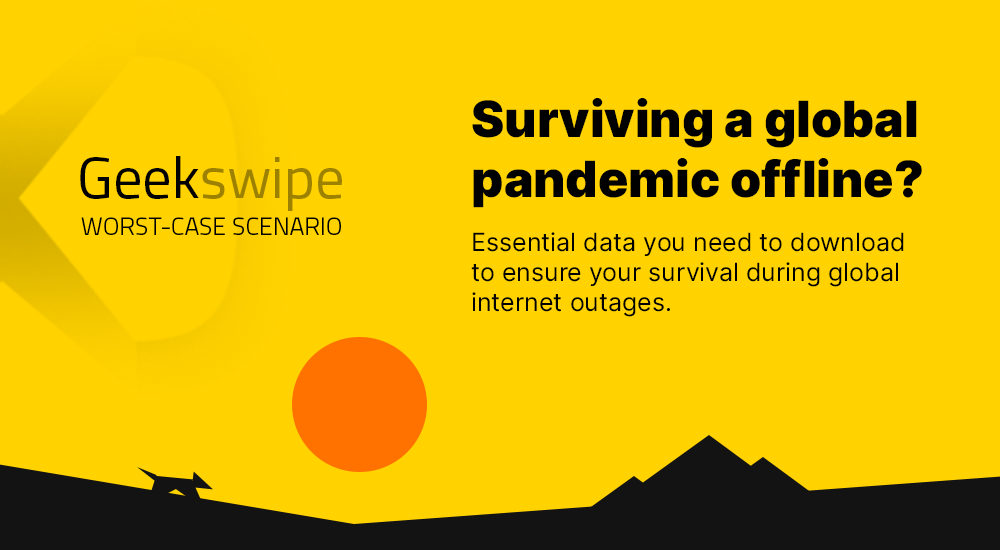 I hope you are reading this from the safety of your home. As a fellow earthling, I thank you for staying home to help fight this 2019 coronavirus.
In the upcoming months, as we fight through this global pandemic, we might lose power or communications intermittently. In that case, we need to be prepared, assuming the worst-case scenario where telecommunication networks would go offline for extended periods.
This revised Geekswipe edition of the worst-case scenario series is exclusively about digital archiving. The following compilations are what we think is essential if the world experiences a prolonged communication/internet outage.
Prerequisites
A fast Internet connection.
External storage devices — a lot!
Download managers like Wget.
Essential data – aka, things you need for survival
Non-essential data – aka, things to keep you sane
Video games, of course. From all the good old nostalgic emulators to 3D games that would run on older machines.
Fiction eBooks! Lots. Of. It. You can find most of the classics on Project Gutenberg. For other bulk archives, check out Library Genesis's dumps.
Movies and TV Shows. I am sure you know where to get it all.
Globally beneficial data
Besides, Wikipedia and geographical data, research data would be a treasure in a worst-case scenario. Sci-Hub, a controversial project that provides access to most of the paywalled research papers, use Library Genesis to host the files.
Government and public data-sets are some good candidates for archival. Especially, in a situation like the ongoing pandemic, the datasets and research information published should be archived.
Get some software-defined radio (SDR) hardware, antennas, and software scanners — for radio communications, interceptions, and data sharing.
Safety and data retention
To preserve it all, you'd need more than three backups, stashed in different locations. Make sure to go an extra step and keeping it inside a faraday cage. And remember! Bit rot happens! Flash storages would start losing bits if you don't turn it on for a few years.
Note
When you are downloading these resources, please be considerate about the bandwidth as most companies are functioning with a bare minimum workforce. Use P2P like torrents whenever possible. For example, Wikipedia dumps are available as torrents too.
While the above links point to resources that might be helpful in survival scenarios, some resources might be outdated and misrepresented, which would end up in a disaster if applied wrong — especially related to medicine and machines. Please be careful. Good luck. Stay safe.
This post was first published on March 29, 2014.