Microsoft's Socl: Review
It was the 'search engine war' that came to an end a few months ago, as the Valley world turned to involve in a war more socially. Earlier the giants clashed on integrating their search engines with their social networks. The first move was from Google, when it tried to display the realtime tweets on its search. Later this was ended as the contract vaporised between Google and Twitter. Soon, Google launched Google Plus as its knight to make all its search social and challenge the blue bug, Facebook. Bings turn ended up with the social bar (facebook) and facebook login for the social search.Socl is something out of the box from Microsoft for the first time! (Yeah.. 'Out of the box' term is only reserved for Microsoft this time) Initially socl was a lab rat being experimented inside some universities with a different goal. Now the Microsoft guys restuffed it and enriched socl with some cool features.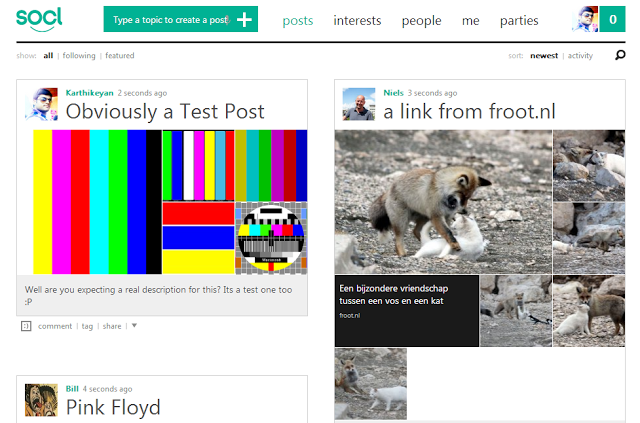 The site's outfit is same as that of the Metro UI and the site looks a bit populated with test posts from beta users like me. Fuse labs has replaced a few terminolgies for the upvote button with 'this makes me happy smiley' and social watch with Parties. Well… Its the standard anyway! Exploring people with interests and social status is more comfy with the Metro syndrome and the smile takes the stress away sometimes.
The website is coded with Typescript which could help the team to be more organised with the codes and to perform rapid changes in the future unlike Facebook's PHP mess.
As soon as the beta game began the post feed rate raised with images plunging all over from the world, thanks to the bing powered post creation which lets you to add any videos and images instantly with just a search.
The best feature of the entire socl realm is that creating a post is made so easy with the handy bing at your right side binging all the necessary media directly from the world wide web for your posts.
Bottomline: Socl – :)
This post was first published on December 5, 2012.