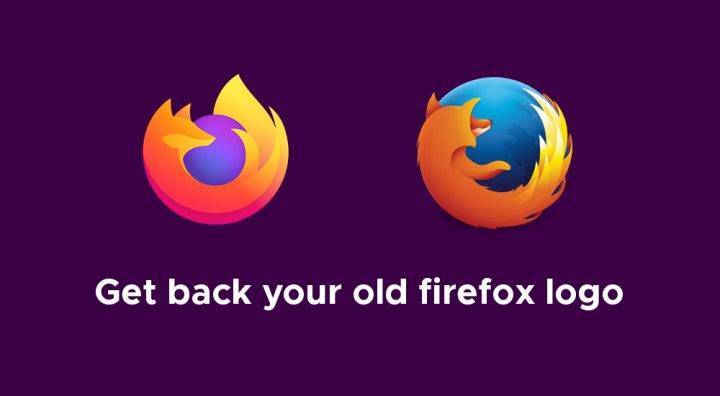 Get back firefox old logo - in comparison with the new logo.
Mozilla is back again for another round to pull something weird with their logo. They keep ironing out the logo that the fox has now lost its limb, the glory, and even the globe has shrunk to the size of a pea. I disliked it from the get-go! So before they make it live, here is a guide for you all on how to restore the old firefox logo; The one with the actual 🦊 and the 🔥! Remember?

Find your version. For me, I am okay with Firefox 69 logo. If you are, go download Firefox 69 source and extract it. Alternatively, you can download an older version of Firefox, install it in a temporary folder, and extract the images from Mozilla Firefox\browser\VisualElements folder too. Or, you can download the brand folder alone here. This one is taken from Firefox 52.
If you are downloading the source, you can find the brand icons and firefox logos inside firefox-69.0.source.tar\firefox-69.0\browser\branding\official. This way you could get the logo for all the associated channels, including Aurora.
Once you have got your preferred images, navigate to C:\Program Files\Mozilla Firefox\browser\VisualElements and replace those two flatty circles with the good old fiery glorious foxes.
Open task manager and find Windows Explorer. Right click and restart it. This should apply the changes to the firefox logos in the start menu.

Getting the old firefox icon for the executable

Now, for the firefox application icon, you'll need something like resource hacker to replace the icon sets with the old one for firefox.exe.

Get the icon set from an old version.
Open the new firefox.exe with resource hacker.
Replace the icon in Icon Group 1: 1033 and 32512:1033.

You can get the old icon sets from the older exe versions; either by installing an older version of the browser in a temporary directory or downloaded from the web.

If you don't like using resource hacker and modifying the exe, you can use the change icon setting by right clicking Firefox shortcut from C:\ProgramData\Microsoft\Windows\Start Menu\Programs and setting it to the old firefox icon.

Note: It is not guaranteed that the old firefox icons might persist through future updates. You might want to play with permissions.
You must be logged in to reply to this topic. Log In